How technology and digitization can enhance service efficiency and workplace experience?
The first webinar of our webinar series 'Caleedo Talks' was held on 1st Oct, 2021 on the topic 'How technology and digitization can enhance service efficiency and workplace experience?'
We had with us Ms. Jagvinder Pinny Mann, Senior Portfolio Manager, Real estate and facilities at Microsoft as our first panelist and Mr. CT Sadanandan, Vice President & Head, Corporate services, BCM & CSR at Tata Communications as our second panelist. Mr. Sadanandan is our strategic advisor in our board since incorporation.
The session began with a short video to set the context of the webinar.
Video 1: "Technology is driving the evolution of workplace and the workplace is driving the revolution of employee experience"
Slide 1: "From headcounts to heartbeats"
A very interesting study by Gensler highlights that:
• 41% of employees now say that they have a choice in where they work, a 52% increase than 6 years back.
• 44% of employees say that they work in a balanced workplace, a 83% increase than previous survey
Caleedo Talks: "How can technology play a crucial role in defining the future of workplaces?"
Ms. Jagvinder Pinny Mann: The whole world and workplace have become a dynamic platform for all of us and really no one can pin point what the future will bring.
The three top areas that technology would drive will be collaboration, employee engagement, and company culture. The technology in future workplaces would definitely stay as the employees of the repurposed workplaces would require flexibility and work & personal life balance.
Today, the line between 'work from home' and 'work from office' is gone and there is no difference whether you are at home or in the office.
Mr. CT Sadanandan: The experience at workplace is not just limited to one element but there are multiple elements to make the experience impactful. The adoption of technology at workplaces was really slow because adoption related to people experience and people management was not on the top of the priority list for organizations.
Financial operations, product enhancements and R&Ds were getting the larger share of technology transformation. The focus shifted on 'people' and 'workplace' in the last decade, and COVID-19 acted as a catalyst for collaboration, flexibility and most importantly innovation.
Poll 1: "The shift towards a technology driven workplace will be centred on which key outcome?"
50% of our poll respondents believe that 'Enabling new workplace norms' with the help of technology would serve as a key outcome for workplace technology, 37.5% respondents believed that workplace technology would improve workplace efficiency and another 12.5% resonated with the fact that 'improved service experience' would be a key outcome when migrating to a technology driven workplace.
Video 2: "The future of workplace is about engaging your employees and improving their productivity"
Slide 2: "from bits to bytes"
A few prominent trends which we would like to share with all:
• IDC reports that the use of wearable devices will be up to 50 % by 2023 and 37% of the millenials use wearable devices.
• 55% of the Indian population uses smart phone and this will be more than 90 % in 2030.
• 5G roll out will accelerate adoption of mobile based digital applications & IOT use-cases.
• SaaS solutions are getting increasingly democratized and with Al & ML applications, predictive analytics, business insights and lower system frictions are expected
Caleedo Talks: "What are the key elements of workplace experience and service offerings where digitization and technology can really impact business?"
Mr. CT Sadanandan: We are now used to managing our requirements with the help technology and for any requirements we have an app today.
Employees expect similar scale of productivity, efficiency, and experience at their workplaces as they have in their social life. The need is to give similar kind of ease of use, access and flexibility to employees. As workplace experience is pervading in multiple areas we would have multiple interfaces, requirements, and actions within the role we are assigned.
How the environment contributes to our overall experience at workplace would be another major element. The overall experience at workplace would be enabled in an efficient manner where employees are not required to spend efforts and energies to receive that experience.
Ms. Jagvinder Pinny Mann: For the workforce, pandemic has accelerated flexibility and productivity outside office. Earlier there was no concept of 'work from anywhere', but today almost everyone has the flexibility to work from anywhere.
However, the ease of using the technology should be in one-hub as we cannot have multiple tools or apps and also to increase technology adoption.
The workplace of the future would have to become hybrid, we would have to create a collaborative and meaningful employee connection for the workforce. The role of workplace would shift to bring teams together for a productive discussion.
Poll 2: "What are the key risks & challenges that your organization perceives in considering workplace technology?"
60% of our poll respondents answered that 'data & user privacy' are the top key risks and challenges their organizations perceives when considering to adopt workplace technologies, another 40% of the respondents believed that 'On-boarding & adoption challenges' is the top concern when considering any workplace technology.
Caleedo Talks: "How do you perceive that the investment in workplace, not necessarily in technology would find resonance with your organization and especially from a finance perspective and are there enough compelling factor to really consider the investment?"
Mr. CT Sadanandan: Organizations have priorities and these priorities are decided based on the value that any initiative brings. Investments by and large, are based on thoughts around enhancement of marketing, product, market share etc. However, when investing in technology initiatives, organizations have realised the need for ensuring that such initiatives impact the whole structure and not just a few portions of it.
If the value outcome of an initiative is clearly demonstrated, the investment would be made. Irrespective of organization size, the operating framework and parameters remain the same.
So within the framework, organizations need to look at the value outcomes like employee productivity, engagement, and experience by adopting technology and digital solutions. And if these are clearly presented, surely investment would be made.
Ms. Jagvinder Pinny Mann: Given the pandemic, organizations don't really have a choice, technologies that would enhance wellness, health and ease of use for the employees would be adopted.
There will not be much choice given the talent crunch and talent hunt by every organization. Therefore, organizations would have to have a balance between how they are going to allocate funds and for what initiatives. A thoughtful prioritisation on what is really important and how does that translate into our use of revenue will drive the thinking and business case going forward.
Poll 3: "What type of cost models are you/your organization preferring while adopting a new workplace technology?"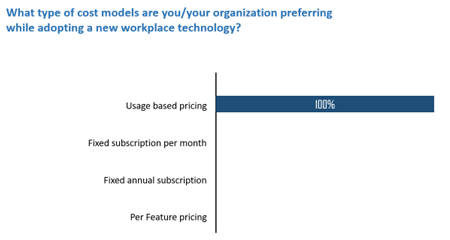 Our last poll question was on the cost models that organizations prefer when adopting a new workplace technology platform. The poll results highlight that most organizations would prefer a 'usage based pricing' where the cost of the technology is based on number of users or employees or subscribers depending on the business and the users of the platform.
Q&A Section
Question from audience: 'How can companies quantify the benefits of these workplace experience platforms before actually adopting these technologies?'
Mr. CT Sadanandan: We cannot always quantify the benefit before we actually adopt and experience the output from such technologies. We can only make assumptions and to make assumptions we have inputs from how these solutions have actually benefitted other organizations and what are the functionalities and capabilities of that solution in line with our business needs. There is no one size fits all solution in the market and every business has unique requirements. They need to evaluate any solution within those parameters.
Ms. Jagvinder Pinny Mann: The benefit of workplace technologies can be quantified and also the businesses are wearing different hats now. Today, organizations are forced to adopt such technologies as there are limited choices left.