Visitor Management Systems - Truth versus Hype
Contemporary articles and publications from the Workplace technology industry highlight the benefits and transformational impact visitor management systems have on workplaces.
Diving deeper into these claims and assessing the "real life" problems reveals some astonishing insights. 
A versatile digital visitor management system which addresses real-life organizational challenges must impact the following aspects of a workplace: 
Experience– A digital application like VMS should enhance the experience of a guest/ Visitor while interacting with other stakeholders in the business like the front office executives, the host, and other service providers whose services may be required during the guest's visit pleasing and frictionless. Tracking and measuring the guest experience as feedback is equally important. Overall positive feedback ensures that investment in digital technology and the orchestration it achieves has given a decent return on investment for the organization investing in the VMS.  
Efficiency– Any digital application that orchestrates different stakeholders through a unified workflow that simplifies and enhances collaboration; therefore, consistent outcomes can be considered an efficiency multiplier. Therefore, measuring process time through time motion studies between a traditional process versus a digital system and error rate ratio is important to establish the efficiency multiplier effect in adopting a VMS system instead of a traditional visitor management system.
Efficacy:A highly reliable and well-engineered VMS should ensure high efficacy levels, which can be demonstrated through system uptime, consistency in user experience, and data security levels.
Emotions– As workplaces are getting repurposed, organizations focus on creating positive vibes and experiential environments. Therefore, any workplace digital application must foster positive emotion. In the case of a VMS, stakeholders can capture the emotion quotient through the feedback trend. Experience in various instances while using the VMS.
The following chart demonstrates the key performance indicator of a VMS system when measured against the four E's (Experience, Efficiency, Efficacy, and Emotions) evaluation metrics. We have tried to capture the key KPIs one must evaluate before investing in a VMS.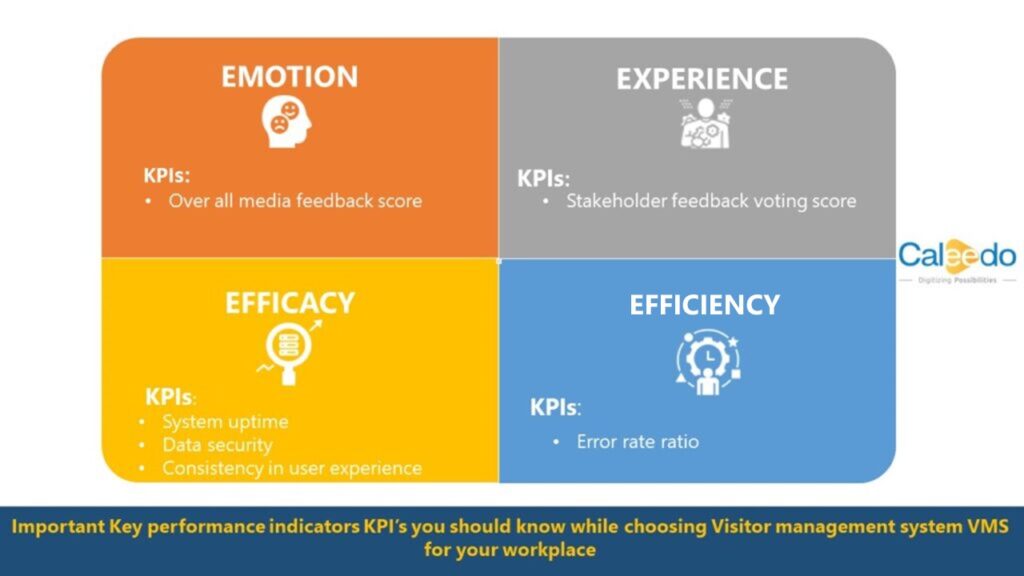 Once the buyer evaluates a VMS, additional features and functionalities can be assessed as a value-added service. Some of the key value-added services that customers should look out for are:
Interoperability- This system must offer open API features for forward and backward integration with other third-party systems and applications like access control systems, CCTV systems, IAQ systems, HVAC & BMS, and Lightning systems, to name a few.
Option to digitally integrate other "adjacent" use cases, i.e., in the case of a visitor management system, VMS must offer additional functional modules which can orchestrate visitor/ guest services, host-initiated customized services, etc.
Data & Information security standard which meets the enterprise-grade application.
VMS is a critical and strategic investment for many organizations, which becomes the foundational block of workplace automation and digitization roadmap. Therefore, organizations must assess, evaluate and take an informed decision based on the above framework.
While digitization is critical for repurposing workplaces to be future-ready, application review and management evaluation at the start of the digital journey can save significant cost and downtime challenges. Things like the total cost of ownership of each application, and backward and forward integration investments, including risk assessment and mitigation, if any, must form a part of the evaluation process.